Facebook: Cash-flow Postive, Tops 300 Million Users

Last year at about this time Facebook had 100 million users.  It hit 200 million in April, 250 million in July, and took just two months more to blow past 300 million.  But the biggest news isn't growth – it's the fact that Facebook is now cash-flow positive, with enough coin coming in to cover its expenses.  True profitability is now in sight, and an IPO could be on the horizon.  If that's the case, will iconoclast Zuckerberg opt for W.R. Hambrecht's OpenIPO, or go the conventional Wall Street route?
Google FastFlip

The new release from Google Laps allows users to quickly eyeball stories, flipping browser pages as quickly as one might thumb through a magazine.  Google places display ads alongside the stories and shares the majority of the takewith publishers.  BBC News, The New York Times, The Washington Post, Newsweek, MIT's Technology Review, TechCrunch, and Salon.com.  Critics abound, but I really like FastFlip.  While certain sites (Newscorp, Gannett) aren't in, I find the fast flip delivers more than an RSS headline, but pops up much faster than clicking on various links in Google reader.  And being able to quickly scan for photos, charts, and graphs to supplement my lectures is a big bonus over an RSS crawl.  I'll likely make a scan of the SciTech and Business sections a regular part of my day.  While the saying goes "you can't beat books for bandwidth", if you got this on a Kindle-like device and it'd go a long way to approximating the dead tree experience.  The revenue prospects for the current implementation seems sketchy, though. The ads run along the side of the screen next to the forward and backward arrow and seem strikingly easy to ignore, making it unclear if there's any sort of industry-satisfying revenue in this first-cut offering.
Times Web Ads Show Security Breach

Of course, if you read those ads on the NY Times, you had to worry about being hacked! Bad guys posing as the telecom firm Vonage switched from running the Vonage ads to ones that displayed virus warnings from user browsers.  According to the NY Times "The malicious ad took over the browsers of many people visiting the site, as their screens filled with an image that seemed to show a scan for computer viruses. The visitors were then told that they needed to buy antivirus software to fix a problem, but the software was more snake oil than a useful program."  Click the image to the right to see what Times users saw an anti-virus popup ad.  The NY Times has also posted notes on what to do if you fell for the scam.  Sites ranging from Fox News, the San Francisco Chronicle, and British tech site The Register, have also been hit with ad-scams in the past.  In class we've discussed how it's essential for firms to regularly audit their supply chain partners.  It seems this complexity now extends to ad firms, as well.
Massive Study of Net Vulnerabilities: They're Not Where You Think They Are
A study of 15,000 organizations finds the greatest tech security that organizations face stem from unpatched and insecure applications, and that these, not operating systems, have become the primary target of attack.  While Microsoft products are often cited as being full of holes, vulnerabilities have also been found in Adobe Flash & Acrobat, Apple QuickTime, and even Java, among others.  Even worse – the highest priority often get the lowest attention, with firms taking twice as long to patch these vulnerabilities on average. The study also found that most website owners failed to scan for common flaws in web applications, such as SQL injection and cross-site scripting flaws.  Server-side website attacks accounted for 60% of all Internet attacks, and 80% of discovered vulnerabilities. Put these together and it's a one-two hacking punch.  Bad guys sneak into a server, then exploit application flaws to compromise desktops and laptops.
Misha Glenny on Global Crime Networks
A stunning TED talk from BBC's Chief Correspondent Misha Glenny on the global mafia. Organized crime now accounts for 15% of world GDP. With the collapse of the Easter Bloc, some 14,000 people whose chief skills were surveillance, smuggling, and killing people, have flooded the job market.  Glenny claims Congolese warlords & global mafia have driven central African conflict that in Congo alone has led to over 5 million deaths – the biggest conflict since WWII.  And the bad guys are online, too.  Glenny links the worldwide mob networks with a need to promote finance reform.  A chilling must-watch.
Apple Launches New Music Products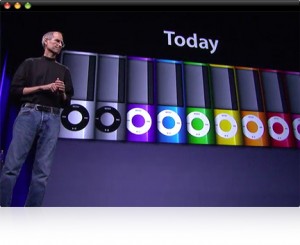 Cisco bought the maker of the Flip cam pocket video camera for over half a billion. But now Apple has enveloped similar features into the iPod nano.  Interestingly, the nano doesn't support stills (the censor's too big for quality pics), but lower-quality video can be shot in the super-skinny music box. Apple also introduced software upgrades for iTunes, the iPod Touch and iPhone.  And the statistics behind Apple's dominance remain stunning.  Over 30 million iPhones & 20 million iPod Touches sold.  That means app developers now have a 50 million+, and growing, target to shoot at.  Over 75,000 apps are available, accounting for some 1.8 billion downloads to date (remember, Apple crossed over 1 billion app downloads just 5 months earlier).  And there's no question that iPods are also enveloping the handheld game market.  21,000 of the apps are games, and a host of developers joined Steve Jobs on stage, including EA, which is launching an AppStore Madden.
Polaris Announces Dog Patch Labs
While we once lamented Y-Combinator's departure from Boston, alternatives are continuing to sprout up.  The latest is Polaris Venture's Dog Patch Labs, a startup incubation and geek hangout space in Cambridge.  Check out the list for other area ventures fueling the revitalized Boston-area startup scene, and the new 'recommended resources' area on my website.  Also check out Scott Kirsner's take on the best networking events for Boston-area entrepreneurs.  LIkeminded folks might also want to check out the upcoming innovation-focused scavenger hunt The QUEST for Innovation.
YouTube's Sea of Red Ink Downgraded to Great Lake Status
So how much is Google losing?  The Google Case covers speculation on this.  But it seems the $360 million/a year loss numbers that were widely quoted a few months back have now been downgraded to somewhere below $300 million.
Intuit Acquires Mint for $170 Million

Mint.com, which launched in 2007, is a free tool for tracking income and spending. A sort of next-gen quicken, the site pulls together electronic information from checking and savings accounts, loans, investments, etc., and offers up nifty charts and graphs to show network, spending trends, and other useful info.  The site makes money by pushing out ads and offers from firms that might improve a user's financial position.  Mint.com was a previous winner of the TechCrunch 50 – the $50,000 startup showdown associated with the popular online news site.
Google Launches Internet Stats Center
This is hugely fun and very useful to anyone teaching where tech & business meet.  Google's new Internet Stats site culls through third-party sources and presents 'Twitter-sized' factoids. Stats are currently broken down into Technology, Macro Economic Trends, Media Landscape, Media Consumption, and Consumer Trends.
The Cloud Hanging Over Skype

eBay has unloaded all but 35% of Skype.  The buyers include Netscape/Opsware/Ning co-founder Marc Andreessen's new firm, Andreessen-Horotwitz, which ponied up about 1/6th of its capital for a stake.  Also included in the buying consortium are Silver Lake Partners, London's Index Ventures, and the Canada Pension Plan Investment Board.  Last year eBay wrote down about a billion in its initial $2.6 billion investment (often reported as an even higher number).  But the new deal re-values Skype at $2.75 billion, total.  But there's a potential fly in the ointment.  While eBay owned Skype, it apparently never owned underlying technology.  Instead it licensed JoltID, code used both in Skype as well as KaZaA, the music 'sharing' software also developed by Skype co-founders Niklas Zennström and Janus Friis.  And now Skype founders are suing, with the potential that Skype could be shut-down.  Was this deal really as risky as it sounds?
The Crime-fighting iPhone
Back before earning my Ph.D, The Fabulous Mrs. Gallaugher and I lived on the boarder of Pittsburgh's Shadyside neighborhood.  It was a lovely, tree-lined place.  But recently some dudes tried to spread bad in our former haunt.  Thanks to the iPhone, though, the 'burgh is a bit safer.  After perps mugged a late-night stroller and stole his wallet and 3Gs, the victim turned on Apple's "Find My iPhone" feature in MobileMe.  Good Morning Silicon Valley reports MobileMe tracked the evil-doers through their shopping trip to a Wal-Mart, a meal stop at Eat'n Park, and then to the gas station where cops dropped a bag of hurt.
VC Behavior in Board Meetings
If VCs say don't check your laptop, smart phone, or texts in board meetings, that goes for class, too.