WePay's Group Payments Get Some Big-Name Backers, Including Max Levchin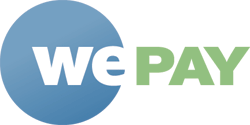 Huge point of pride for BC, BCVC, and TechTrek as Bill Clerico and Rich Aberman (both BC '07) scored $1.65 million in A-list funding. Clerico, who co-founded BCVC, was also undergrad TechTrek '06.  And while TechTrek has placed students at top-tier host firms, including Cisco, Google, and Nintendo, Clerico is the first TechTrekker to come full circle and host a TechTrek class as CEO.  WePay investors include August Capital and a group of 'rock star' angels topped by the ringing endorsement of PayPal founder Max Levchin.  TechCrunch reports " PayPal alum Dave McClure is also onboard, as are Paul Buchheit, Ron Conway, Mark Goines, Andrew McCollum, Joe Campanelli, and Angus Davis", while the Boston Globe's Scott Kirsner reports another investor is "Eric Dunn, a former chief technology officer at Intuit, the maker of Quicken personal finance software".  That's a team that knows payments & banking.
The WePay flagship service is a must for anyone who has had to manage group payments (TechTrek's using the service to collect diner money).  Setting up an FDIC-insured account is as easy as establishing an Evite invitation (The Bancorp Bank invisibly handles the back-end, while WePay charges modest fees for transactions).  The site sends out 'bills' and follow-up notices, so treasurers are out of the 'nag' game  Users can share transaction history with approved folks so the audit trail is visible to all and deadbeats are exposed. Payment can be through credit card, bank transfer, or even check. WePay will even arrange for a debit card associated with the group. The interface is strikingly elegant and the market is potentially huge.  WePay will streamline the treasury function of student clubs, sports teams, celebration pitch-ins and more.
Gotta love how TechCrunch sums this up "WePay looks like it could be a winner. The company is solving a problem that nearly everyone has had to deal with, and they've got a proven way to make money doing it. Look for their launch [in early 2010]." WePay represents the second BC-affiliated business coming out of this year's Y-Combinator class ('09 BCVC winner WakeMate was announced late last year). Another fun fact reported by Kirsner, WePay's new offices are the former digs of rather successful firm with Massachusetts roots – Facebook.  Thanks, Scott, for the BCVC and Facebook shout out!  More evidence that The Heights has become a hothouse of innovation. Go Eagles!
Honest Hollywood, Netflix is Your Friend

Netflix spends about $240 million buying DVDs, and the firm's 58 distribution centers process approximately 2.2 million DVDs per day.  Studios let Netflix purchase most of those titles well below what they'd charge Walmart, and in many cases studios get a cut of the subscription take based on a title's success with Netflix subscribers  But licensing content for the "Watch Instantly" streaming service has been a challenge.  Firms are demanding all sorts of compensation schemes, making some titles unprofitable to license if not impossible to obtain (see the Netflix case).  That's left the firm with only 17,000 mostly weaker titles available for streaming, vs. the 100,000+ titles available on physical DVDs.  But a Netflix deal with Starz brought the cable channel's upper-tier content (Spiderman 3, Ratatouille) to "Watch Instantly".  Studios are eyeing this warily – it looks like an end-run around their attempts to milk coin form every stage and every distribution channel in the release window.  And many studios, in part, blame the rise in subscriber services on the fall in DVD purchases.
Netflix is on track to earn some $111 million on sales of $1.67 billion, a 22% gain over 2008. Even more impressive, NFLX is up 90% this year.  So much for the analysts a few years back who once claimed it was 'an ice cube melting in the sun'.
And "Watch Instantly" is growing.  42% of its 11.1 million subscribers have tried the service, twice as many as last year, and a host of firms are building streaming into TVs and DVD players.  Netflix insists it needs deals like the one it cut with Starz to compete with the deep pocketed rivals, Amazon and Apple.  But now Warner Brothers and other studios want Netflix to accept the same deal Hollywood has with the cable companies. That's an expense of about $4 each time a new movie is watched, with studios taking 65% to 70% of that coin. Bonus: Want a look inside a Netflix Warehouse?  Check out this video shot during USA Today's visit to the firm's Fremont, CA facility.
SCVNGR Raises $4 Million From Google Ventures


Budding BC entrepreneurs were treated to an electrifying talk from SCVNGR CEO Seth Priebatsch last fall at the offices of Highland Capital.  BC Alum & Highland Partner, Prof. Peter Bell is on SCVNGR's board, and Bell will be joined by Google Venture's Rich Miner (our Fall '08 TechDay headliner).  The $4 million round is a big endorsement of SCVNGR's location-based gaming model.  Some of you know the firm from participating in QUEST for Innovation, but the firm's platform has been used by over 400 clients including Boston College, Princeton, Yale, MetLife, and HSBC, with a whopping 91% client repeat rate.  TechCrunch reports " the startup has crossed "well over" $1 million in revenue in its first full year in business, with monthly revenue up 40% month over month for the last six months. And it's now cash-flow positive. In other words, it's one of the first location-based game companies that's making money."  Even more fun, the funding round closed on CEO Priebatsch's twenty-first birthday. Students looking to get in on more killer talks like Highland Day should reach out to Jenna Kazarian in the BC Information Systems Academy, and check out BCVC.
Spredfast Manages & Monitors Social Media Efforts
Early in December, Social Agency, a five-person startup based in Austin, TX, launched a Web-based software package called Spredfast that helps companies manage their social media campaigns. The software not only measures audience size and engagement but also allows coordinated planning and automated posting across multiple social media platforms.  The web-based service tallies up how many people view an organization's Twitter, LinkedIn, Facebook, YouTube, and Flickr updates, and can also track posts managed by blogging platforms, that include Moveable Type, WordPress, Blogger, Lotus Live, and Drupal. Spredfast will also measures audience interaction, such as the volume of post comments, link clicks, or retweets.  This leads to all sorts of potentially valuable intel to expose the ROI on social media campaigns.  Technology review quotes Scott McCaskill, Social Agency's co-founder, saying the service allows organizations to see "whether all the time put into doing those things is really helping build brand or product awareness, which kinds of content are most successful, what days and even times of day result in the most traffic or new followers/friends". The software's metrics show the best times to post updates, and Spredfast allos firms to test strategies and schedule blog posts, tweets, Facebook updates, and other campaigns.
eBooks: Averting a Digital Horror Story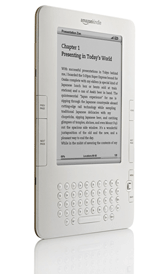 Amazon claims the Kindle was the firm's most gifted item ever, that earlier in the fall the device led Amazon sales across all categories in BOTH total dollar sales and unit volume.  Whoa! And with all those eReaders getting unwrapped on Dec. 25th, Amazon announced that on Christmas the firm sold more eBooks than the dead-tree kind.  But publishers are starting to grumble that Amazon has droped the price of some digital best-sellers to as little as $7.99, vs. the roughly $35 list many hardcovers command. Publishers Hachette and Simon & Schuster are even threatening to delay the release of some digital versions for several months to avoid undercutting higher-priced hardback sales. Some publishers are experimenting with non-Kindle versions for platforms as diverse as the Nintendo DS, while others are offering digital extras like video clips.  Donna Hayes, CEO of Romance publisher Harlequin, offers a contrary view, claiming eBooks (currently at 6% of firm sales) have actually grown the firm's business and bottom line.  Inside of three years since iPhone launch, I'd estimate that over half of my students carry a smart phone.  eBooks will eventually crush the $180 textbook market and blow open opportunities for open content.  I expect that by the time the class of 2015 arrives, everyone will carry some form of sophisticated eReader to class.
Facebook COO Sheryl Sandberg Gets Disney Board Seat


Steve Jobs may be the mouse house's #1 share holder, but now Disney will get even geekier with a dash of social networking from Facebook's COO.  This 'most powerful woman in business' is the right hand (wo)man of Mark Zuckerberg and sits on Starbucks' board.  Disney has had a strong presence on Facebook (screenshot in our Facebook chapter), and owns its own kiddie network in Club Penguin, among other geek cred. Facebook recently hit #1 in US Web traffic. Look for Sandberg to vault even higher on Fortune's Most Powerful Women list in 2010.
Top Ten IPO Candidates for 2010
The TechCrunch list includes the amounts raised via the private markets.  Facebook, Zynga, LinkedIn, Glam Media, Demand Media, Gilt Groupe, Etsy, Yelp, Tesla, and Skype make up the list.  Incidentally, Zynga's CEO Mark Pincus was recently interviewed on Charlie Rose. For those curious about last year's IPO market, the WSJ offers a quick rundown.
How a 40,000+ Employee Company Trains Employees in Social Media
Telstra, the Australian telecom giant, makes social media training mandatory for all the firm's employees.  A smart move given the breadth of incidents in '09, from the Dominos gross-out to the Cisco Fatty incident.  The firm's entire social media training guide is now online. Telstra's policy emphasize the basics, of "The 3Rs" – responsibility, respect and representation, but it provides a great foundation for any firm grappling with how to deal with social media, an out-of-bottle genie that ain't going back in.