New! Also check out "Intro to Programming with Swift for iOS Development." 70+ online videos, quizzes, exercises, and more!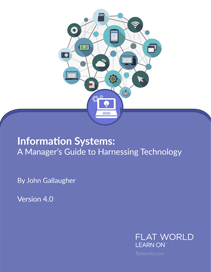 Information Systems: A Manager's Guide to Harnessing Technology (new v. 5.0 published Aug. 2016! Here's a bit of what's in v 5.0). This exciting textbook introduces students to the world where tech and business meet. Written in an accessible style using a mix of concept chapters and integrative case-style chapters, the text has been praised by students and faculty alike.  Some highlights:
Over 400 colleges and universities have adopted the textbook across both undergraduate and MBA programs.
Used by six of the top 10 "Best Undergraduate IS programs" ranked in US News and World Report.
Winner of the "Textbook Excellence Award" from the Text and Academic Authors Association.
Updated yearly with an eye on keeping concepts consistent but examples current, relevant, exciting, and useful.
Low-cost digital versions start at $24 through publisher Flat World Education.
Author actively shares textbook-relevant industry updates, examples, and supplementary material via social media (Blog, Twitter, Google+), plus the author's own slide and podcast archive.
Version 5.0 published August 2016! (really the tenth version, as the publisher has switched to a new numbering system). For faculty using the prior version, see updates you'll see in version 5.0. A look at the Table of Contents.
❖ ❖ ❖ ❖
About the author: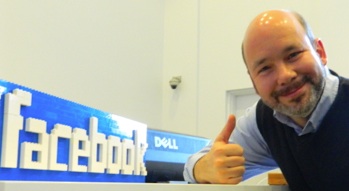 As founding faculty for the Boston College TechTrek programs, and the former co-lead of the school's graduate field studies in Europe and Asia, Prof. Gallaugher has had exceptional access studying technology growth and impact worldwide.  Prof. Gallaugher and his students spend several weeks each year visiting with, and attending master-class sessions hosted by, technology executives, entrepreneurs, and venture capitalists in San Francisco, Silicon Valley, Seattle, Boston, New York, and Ghana. This unique opportunity helps provide his teaching and writing with a broad, deep, and continually refreshed perspective on key industry trends and developments.
An award winning teacher and active researcher, Professor Gallaugher has published in the Harvard Business Review, MIS Quarterly, and other leading publications.  He has consulted to and taught executive seminars for several organizations including Accenture, Alcoa, Duke Corporate Education, ING, Partners Healthcare, Staples, State Street, the University of Ulster, and the U.S. Information Agency.  His comments on business and technology have appeared in The New York Times, National Public Radio, BusinessWeek, The Boston Globe, Wired, the Associated Press, Chronicle (WCVB-TV), The Daily Yomiuri (Japan) and The Nation (Thailand), among others.
Gallaugher also works closely with collegiate entrepreneurs and has served as co-advisor to the Boston College Venture Competition, an organization whose affiliated businesses have gone on to gain admittance to elite accelerator programs (Y-Combinator, TechStars, MassChallenge, Summer@Highland), launch multiple products, and raise over $100 million in capital.