Could Apple Pay Win Mobile Payments?

Starting a new consumer payments standard has proven difficult for many. Google Wallet hasn't really taken off, smaller efforts have tried for years to gain traction, and big consortia including the telecom-carrier-backed Softcard (formerly known by the unfortunate moniker ISIS) and MCX (backed by Walmart, Target and other big retailers), haven't done much, yet. There are lots of problems in creating mobile payment standards, chief among them, cash and credit cards work well – retailers, consumers, and card issuers need a 'better-than-cash' incentive. New standards also require new hardware to be in lots of stores and lots of phones. Apple Pay may be the most promising payment standard to come along. Apple has 800 million credit cards on file for iTunes, ready to integrate with Apple Pay. The cardholder-side NFC technology is baked into the new iPhone 6, 6 plus, and Apple Watch and comes along just as the vendor-side in the US is upgrading card terminals for the new European-style chip-and-pin card readers slated for 2015 rollout. Other Apple technologies strengthen the standard, including Passbook for organizing cards, the Touch ID fingerprint scanner, the firm's massive base of existing app developers, and the rollout of iBeacons for location-based interaction. The big three US card partners (Visa, MasterCard, Amex) are all on board with Apple Pay, as are six issuing banks representing 83% of US plastic transaction volume, and over a quarter of a million retail outlets including Disney, Macy's, McDonalds, Nike, Walgreens, and Staples. Apple Pay will also allow online retailers and apps to accept payments with one-touch, eliminating the need to type billing and shipping information – a boon for accelerating m-commerce. App partners for Apple Pay include Target, Panera, Groupon, MLB, Starbucks, and OpenTable – which will let you ApplePay in participating restaurants without the dead-time of waiting for a credit-card round-trip from waiter to register and back.
Customer-vendor wins like that will accelerate the standard. The other big win is security. Apple Pay's standard prevents cashiers from seeing an account number or cardholder name. It also uses a process called 'tokenization' that removes the actual credit card number from the vendor transaction and replaces it with a temporary-use number. Link this with Apple's Touch ID fingerprint scanner and Apple Pay looks like a massive improvement in electronic payment security – huge wins for consumers and retailers skittish about plastic in the wake of point-of-sales breaches at Target, Neiman Marcus, Home Depot, and others. And more Apple Pay users will undoubtedly increase the appeal of Apple Passbook as an alternative to printed tickets and customer loyalty cards.
Final bonus – lower rates for retailers. Apple has apparently negotiated "unprecedented discounts" on card transaction fees. Success will depend on how quickly Apple Pay-compatible hardware gets in the hands of both retailers and consumers, but given that pre-orders for the phone broke all prior records, it looks like the wallet's about to go the way of the buggy whip.
The Starbucks App, The Most Successful Mobile Payments System In The US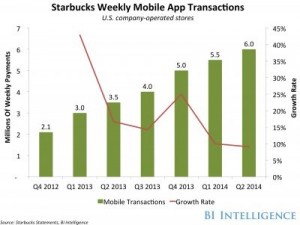 At 6 million average weekly US transactions, the Starbucks App now accounts for a 15% of payments made at Starbucks stores. Total payment volume through the app should exceed $1.5 billion this year. There's no NFC chip technology here – the Starbucks app simply generates a bar-code read by a scanner at point-of-sale.  Payments are quick, but really not much quicker than using a Starbucks plastic swipe card.  The real incentive is a link to the firm's loyalty program, allowing regulars to earn free food and drink.  There are some other nifty incentives, too, including free iOS apps and iTunes songs each week, and the ability to browse menu and nutrition info. Extra bonus for my students, an alum works on the payments team and hosts our visits each year as part of Graduate TechTrek.  Eagles everywhere!
Bitcoin: a financial revolution driver in the developing world?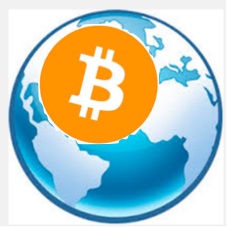 For all the press bitcoin has received in the US this past year, Demo Africa makes a strong argument that bitcoin may be ripe for adoption in emerging markets from sub-Saharan Africa to Latin America.  Fearing fraud, many large e-commerce sites don't sell to consumers in nations often thought to be high-risk.  The hurdles merchants face to accept PayPal, or traditional credit cards like Visa and Mastercard, are also high.  Family members or others seeking to send funds home through services such as Western Union and Moneygram suffer cross-boarder transfer fees in the range of 12 percent, with settlement times of 2 to 3 days. Rates that high help fuel suitcase smuggling and other illegal cash importing schemes.
Bitcoin's ability to instantly transfer asset value electronically at dramatically lower transaction costs has the potential to attack all of these problems.  Convert a local currency to bitcoin and it becomes a cash equivalent, eliminating vendor fraud risk. And while interbank transfers using the massive worldwide SWIFT network averaged about $30 each last year, the median Bitcoin transaction fee during that time was just $0.004.  Bitcoin has virtually no settlement time – transfer the asset and it's immediately available to its new owner.  An accelerating of services that allow the exchange of 'flat currencies' for bitcoins, and vice-versa, could catalyze global adoption.
Supercomputers Make Discoveries that Scientists Can't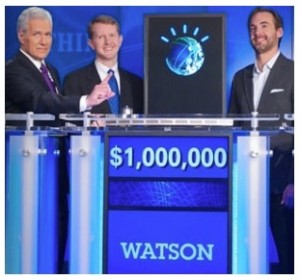 Academics often lament that they can't keep up with current literature, and that their papers have limited impact because readership is so small. However, an experiment led by IBM and Baylor College of Medicine suggests that Watson-style AI (artificial intelligence) can deliver a mega-brain to find worthy insights from academic papers and fuel new discoveries.  A recent system scanned past papers on the hunt for a protein-enzyme interaction that may suppress tumors in humans, suggesting possible new avenues for cancer drug research. To test the process, the system looked at papers published up to 2003, and was able to identified seven of nine of the targeted protein-enzyme discoveries that were made in the subsequent decade.  It also discovered two more previously unknown to science. Vast amounts of human knowledge are lost, simply because our brains are too limited to look for relationships, especially those conducted across disciplines or in areas of science where researchers have little interaction.  The IBM/Baylor experiment could be a crucial key to unlocking value in vast man-years of prior academic work. Somebody give that computer tenure!
❖ ❖ ❖ ❖
❖ ❖ ❖ ❖
Come on out! Hub Innovation Comes to the Heights will be Thursday, Sept. 18, 2014 in the Fulton Honors Library.  Networking reception with students at 6:30pm, with panel starting at 7:00pm. All are welcome!  Hear from three young alumni innovators: