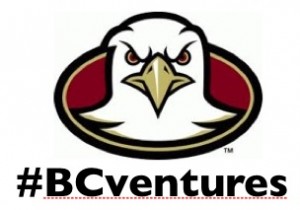 We'll start with #BCventures coverage this week since there are some big milestones to celebrate:
Also keep these events in mind:
"How Do I Build That?" Modern Mobile & Web Apps Demystified, Wed. Feb. 4, 5pm, Fulton 310.  BC alum Patrick Allen, BCVC winner, MIT$100K ESC Mobile Track winner, and vet of Summer@Highland and MassChallenge will give a beginner's intro to prototyping tools and other resources so you can build your startup dreams.
"What Every Startup Needs to Know,"  Wed. Feb. 11, 5pm, Fulton 150. BC alum Joe Theis, Partner at Goodwin Procter and member of the Boston Business Journal's 30 Under 30 list, and legal vet of the recent HubSpot IPO, will cover legal and other essentials that should be on every founder's radar.
Boston College Startup Fair, Monday, February 9th, 2015 from 12-3pm, Heights Room, Corcoran Commons. A job and internship fair where over three dozen firms, coast-to-coast will court hundreds of BC students.  Want in on wooing Eagle talent? See Tyler VauDell – vaudell@bc.edu and Tom Herer – herer@bc.edu for table availability and details.
❖ ❖ ❖ ❖
Why Investors Are Going Bananas Over Amazon's Holiday Results


Jeff Bezos has continually said that Amazon is playing the 'long game', and will make big bets on the future, even if this comes at the expense of the kinds of short-term, quarterly profits Wall Street expects. Analyst grumbling had been increasing, especially with Q3 coming in as the firm's worst in 14 years. But last quarter Amazon utterly crushed the consensus EPS estimate of 17 cents, earning an astonishing 45 cents a share. North American sales alone jumped 22%.
Amazon doesn't disclose how many Prime customers, the firm has, but it did say Prime membership is up 53% for the year. This is especially impressive given that Amazon increased Prime's US subscription from $79 to $99 a year. Electronics and general merchandise sales (which includes consumer staples that match well with Prime membership) increased 27% on the quarter, well ahead of the 22% predicted. Margins are also up, despite increased investments. Amazon's "other" category, which includes the firm's gargantuan AWS cloud computing biz, grew 43%, and Amazon will soon break out AWS results separately. Some analysts suggest AWS is already an over $6 billion business.
Side note: Our TechTrek students had a great time meeting with alums in Amazon's Seattle HQ, and we're looking forward to our first-ever visit with alums on Amazon's Cambridge, MA device design teams. My family can't wait for our Amazon Echo!
Amazon and Netflix to Bankroll Movies


More Amazon news: The firm announced plans to make a dozen movies this year, to be released first in theaters, later streaming on Prime Instant Video. The Amazon series Transparent was a Golden Globes hit, and the firm recently signed Woody Allen to create an original series for streaming. Amazon isn't alone, Netflix is also bankrolling movies, including a four picture deal with Adam Sandler, and a sequel to the martial arts hit Crouching Tiger Hidden Dragon. And Netflix wants to bring these movies to devices worldwide, declaring "We want to be everywhere in the world within five years"
Now Amazon Can Run Your Firm's E-mail, Too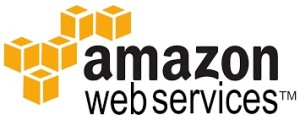 Amazon's fast-growing AWS runs data center tasks for some of the Internet's 'biggest in class' firms, such as Netflix, Airbnb, and Etsy. AWS has 1 million active customers and five times the capacity of the next fourteen cloud providers combined.
Now AWS will run your firm's e-mail and calendar function. In addition to industrial-strength computing and storage offerings, Amazon also offers Zocalo, a Box and Dropbox-style file sharing and syncing service; and a remote "PC in a Browser" Desktop as a Service solution. Email and calendar allows firms to add yet another critical business tech function with one trusted provider. Customers can still use native client apps like Outlook, iOS, and Mac mail & calendar, but the backend is run in the Bezos cloud. Amazon serves up a firm's global address book and users can also specify where their Amazon WorkMail data will be stored, which can both lower latency (fast access) and may be necessary for regional compliance reasons that require data to be stored in-country.
Apple's Monster Quarter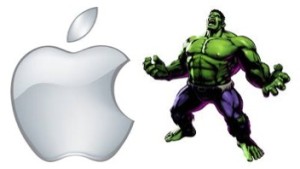 Apple posted $18 billion in net income, the most profitable quarter of any business in history. The largest quarter of any firm previously was Russia's Gazprom at $16.2 billion. The largest quarter from a US firm was $15.9 billion from Exxon Mobile in 2012.
Of the 20 most profitable quarters ever, 15 were from oil and gas firms. Apple made up all the rest.
About 1 percent of the planet bought an iPhone last quarter. That's sold 74.5 million iPhones in the last three months, 34,000 iPhones every hour. To put that in perspective the world's ENTIRE TV industry sold just 60 million televisions last quarter. The iPhone accounts for about 2/3 sales and earnings.
The largest firm in the US by market cap, and its most profitable, grew by a law-of-large-numbers-defying 30%.
Apple's China sales were up 70%, largely due to a recent deal with the nation's largest carrier, China Mobile.
Apple now has $178 billion in cash & short-term securities. To put that in perspective, as of this writing the market caps of T-Mobile, Sprint, and AT&T are $9.5B, $17B, and $170B, respectively. Give Apple another quarter and they'll probably bank the value of Verizon, which stands at about $189B.
Apple's app store business is only seven years old, but last year Apple paid app developers $10 billion, an amount roughly as big as the entire US domestic movie theater box office gross. The iOS app business has created 1.5 times as many jobs as all of Hollywood. Growth continues to march north – half a billion dollars was spent on apps in just the first week of 2015.
Could Google Become a Wireless Carrier?

There's no official word, but CNN is among outlets reporting that Google plans to become a mobile virtual network operator, or MVNO – buying wholesale access to carrier networks (T-Mobile and Sprint) and reselling it to consumers under its own brands at its own prices. This is the same kind of thing Walmart, Virgin, and most other US providers outside the "Big Four" do.
Google makes the planet's most popular mobile OS (Android), has become a cable-competing high-speed ISP through Google Fiber, runs VoIP through Google Voice, video conferencing through Hangouts, and content distribution through YouTube, among other things. One analyst suggests Google could sell $1 billion in wireless service within three years.
Dish Network's $20 Sling TV Attacks Cable

Dish Network's $20 SlingTV service is the first to allow US consumers access to subscription TV over the Internet without having to sign up for cable. It works over smartphones and tablets, and can get to the TV via Roku or Amazon Fire TV (not yet via AppleTV or Google Chromecast). The deal includes ESPN, the crown jewel of live programming which has held many sports-loving millennials to a cable contract. You can't pause or rewind ESPN or Turner programming, but other networks are allowing DVR-style controls, and the ability to stream after first broadcast. It also does one stream at a time, so password sharing with family members, friends, or roommates could lock you out. Sling might eventually grow an ad business, but right now when ads from cable stations normally show, Sling usually runs no ads at all (e.g. just a blank ESPN logo during the network's commercial breaks).
It's a good start, but the big networks like CBS, NBC, and Fox aren't available, so add Hulu into any cord-cutting plan. Neither are Comedy Central, AMC, and FX – channels that are usually included with basic cable, and which have hot programming lineups popular with millennial cord-cutters Dish is courting. But with HBO about to offer a streaming service that doesn't require a cable subscription, it looks like cable's programming dominance may be coming to an end.
Microsoft HoloLens: A Sensational Vision of the PC's Future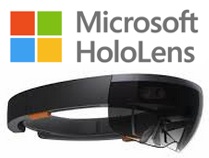 While the initial demo of Microsoft's new HoloLens hologram / glasses technology was 'highly scripted and completely controlled', the NYTimes came away thoroughly impressed, with tech writer Farhad Manjoo writing in the times that the tech is "sensational", "wondrous", and "blew me away."
In the demo, a Skype call to a plumber and electrician overlaid instructions on real-world parts so a HoloLens user could be talked through home repair. NASA helped Microsoft create a 'walk through' Martian landscape based on rover photos. And in another demo, elements of the wildly popular Minecraft game that Microsoft bought last year, inhabited a living room with the user 'erasing' physical objects when using virtual world objects to interact with them – think smashing and 'disappearing' the living room coffee table.
The product isn't ready yet, but Microsoft expects the first version to reach the market this year.  For more demo videos and use examples, visit the Microsoft HoloLens site. It's worth a look!
Netflix Secret Algorithm Ingredient is a Human


For all the analysis Netflix does, it's important to remember that humans are involved in greenlighting content projects. That main human is Chief Content Officer Ted Sarandos (for content acquisition we're talking decision support, not decision making systems). Sandros says the decision making mix is 70% data and 30% judgment "but the thirty needs to be on top, if that makes sense."
A few more tidbits in this New Yorker piece on Netflix: Kevin Spacey is quoted confirming data helped greenlight House of Cards, relaying the Netflix pitch "We believe in you. We've run our data and it tells us that our audience would watch this series. We don't need you to do a pilot. How many do you wanna do?" Also, on the value of streaming as a way to battle piracy: Canadian BitTorrent traffic has fallen 50% in the three years following Netflix entry into that market.
Uber Deserves To Be Worth More Than The Entire Taxi Market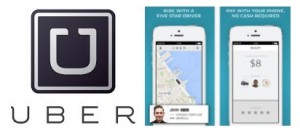 Why is Uber valued more than the whole Taxi market? Turns out it's a pie-growing monster that's already 3x the size of the San Francisco taxi market. Those using Uber case in gallaugher.com/book might want to share recent video of Uber CEO Travis Kalanick w/students.
And for those also using the book's Airbnb case here's a fun fact (with cool map): Over half a million people stayed with Airbnb on Jan. 1st.
❖ ❖ ❖ ❖
Programming note: The last Week in Geek wasn't sent out properly due to a glitch between BC & Google services. Check out what you missed.  Also, if you've had trouble signing up for Week in Geek e-mail, the e-mail box at the top of this page should now work properly.