UPDATED STATS AND NEW EXAMPLES AND CONTENT THROUGHOUT,INCLUDING:
Zara: With a growing Internet presence and a 5-star-rated app, it was time ti include a sub-section on Zara e-commerce. The update is an opportunity to define omni-channel (which will also come up in other chapters) and how Zara's online and offline efforts blend for an integrated customer experience.  Zara's efforts are contrasted with rival Primark's failed attempts to sell online. Additional information is updated throughout the chapter, including new stats, information on emerging competitors. Three compelling charts showing Zara's two decade-plus growth in revenue, store openings, and operating profit are now been included in the text.
Netflix: Additional information on the importance of Data as firms struggle to be the 'first search' interface for entertainment.  Rivals in unified entertainment search include Comcast offering Netflix on Xfinity (and even signing up new Netflix subscribers), Apple allowing Amazon into AppleTV, and Amazon integrating premium cable content into Prime TV search, and selling subscriptions to these channels in the process (a great concept to relate to learning in Amazon chapter, as well). The chapter also includes an embedded, roughly 2.5 minute video "How Netflix Changed TV" in the chapter's first section. There are updated stats throughout, including information on original content and licensing spending, the profitability of DVD-by-mail, subscriber growth, international market expansion, and the firm's $1 billion international debt issue.
Moore's' Law & More: Additional information on the rise of graphics chips/ASICs & FPGAs for machine learning and artificial intelligence.  The chapter now describes these technologies, why they're useful, and a table and photos offer quick comparison with pros and cons. Updated references of IoT with newer example mentions (Apple HomePod, Snapchat Spectacles). The chapter now includes new example media, including an image and spec list of the $10 Raspberry Pi Zero W (a specs-rich full computer that costs less than what many spend on an iPhone cable), and the Netflix-created video (w/website link) on using an Arduino to create "Netflix Socks" that pause streaming if the wearer has fallen asleep. Updated stats on the incredible growth of M-Pesa in Kenya and information on the approval of the Proteus ingestible. New information on Waton's use in health care, pharma, financial services, marketing, and education. The Mickey's Wearable subsection on Disney's Magic Band now includes a brief video and info on a similar product at Universal Studios, Orlando.
Disruptive Innovation: The call-out section on threats to Intel has been updated and is now labeled "Intel's Cash Cow: Increasingly Threatened by Chip Designs Originally Used in Phones and Graphics Cards." The section includes new information on Microsoft's commitment to ARM-based chips in its data center, information on consortia attempts to make ARMs run Intel-compatible software, and relating this information to the rise of graphics chips for machine learning – further eroding the data center market that Intel has traditionally dominated.  The section that explains bitcoin and the block chain has been updated and renamed "From Bitcoin to Blockchain and Beyond." Statistics are updated. Emerging cryptocurrnecies, such as the popular Ethereum and Ripple are mentioned, new examples of blockchain technology use are offered, and a callout section describes the recent developments known as ICOs or Initial Coin Offerings.
Amazon: A new section titled "Beyond Clicks: More Bricks" includes information on Amazon Campus stores, Amazon Books stores, Amazon Go, Amazon Fresh, and the announced Whole Foods purchase. An Amazon Go demonstration video shows how machine learning/computer vision may change physical retail. New discussion of Amazon warehousing and distribution facilities now totaling 400 centers worldwide. New details on the functioning of Amazon fulfillment centers, and an updated video replacing two prior videos shows a Greater Toronto Area fulfillment center, from products coming in, stacked on robot-mounted shelves, shelves called back for order picking, and the final packing and sort to leave the warehouse.  Amazon's push into logistics is examined, with the firm using data and vertical integration to determine when to share packages with UPS, FedEx, the US Postal Service, or arrange for package delivery itself.  The firm's leasing of cargo jets, purchase of tractor trailers, ocean freight foray, and local truck scheduling are detailed. Students learn how analytics, scale, and custom infrastructure help the firm cut shipping costs, speed delivery, and perhaps even lay the groundwork for a possible separate shipping business. New information on Amazon's commercial drone delivery tests are offered, along with a video demonstration of the Cambridge, UK effort. New stats, including the AMZN market cap being larger than Walmart, Target, Best Buy, Macy's, Nordstrom, Kohl's, JPPenny, and Sears – combined. Quidsi shutdown mentioned as well as Walmart's acquisition of Jet.  New Amazon Dash Wand video – content on Dash products now in with other consumer electronics and Alexa/Echo.
The Sharing Economy: Includes important details on the ouster of Travis Kalanic as Uber's CEO, the firm's bad behavior, and how internal culture can harm brand, employee morale, and fundraising efforts (an important discussion as the industry works to be more inclusive and appeal to a broader talent base).
And More: The challenges of competition based on technology is highlighted by comparing Snap's post IPO struggles with Facebook's rapid feature matching with its much more widely used Instagram and Facebook products. Updated stats in FreshDirect including info on profitability, sales, Washington DC expansion, and meal-kit delivery business/investment. Augmented Reality and Virtual Reality are defined, and examples are offered throughout the text, including in an expanded discussion of Blue Nile in the Strategy and Technology chapter.
NEW DEFINITIONS
Several new terms are introduced and linked as keywords in the text, including: augmented reality, channel conflict, coopetition, frenemies, initial coin offering, machine learning, omni-channel, and showrooming.
NEW HANDS-ON EXERCISES:
A Brief introduction to Tableau is included as an exercise in the Data Asset chapter, and is included as one of the exercises following Section 15.6 "The Business Intelligence Toolkit".  This very brief, under 20 minute video, was created by one of my TAs to show students where to download a free student version of the leading, cross-platform business analytics tool and experiment with a short example showing data visualization for decision-making.
The Understanding Software chapter also encourages students with access to a Mac to experiment with the first chapters (free-online) in Learn to Program using Swift for iOS Development.
—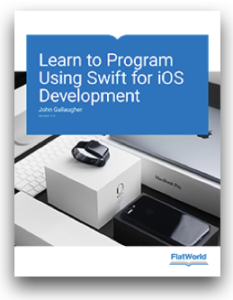 Also New as a Separate Offering: A Light-Lifting, High-Impact First Programming Course!
Learn to Program Using Swift for iOS Development
Ideal for flipped classroom and online learning settings, as well as traditional classes, the video-heavy product allows new-to-programming students with access to a Mac to learn Swift Programming while also learning to build apps.  Assigning lectures as videos, and spending class time with instructor-provided exercises and solutions, allows faculty to offer a course with skills that are in high-demand, while saving instructors from the normally heavy burden of planning and teaching a conventional chalk-and-talk programming course. This product is available now for only $24.95 / student, and is in the process of being updated for Xcode 9 and Swift 4. Curious but don't have the time to explore this right now? Assign it as an independent study to a bright student or students that would be interested in serving as a TA in a future course. App development skills are a path to rankings-impacting higher salaries for internships and job offers, and can be a conduit for stronger university/employer and alumni ties. Students will love to show-off their homework, too! For more info see: gallaugher.com/swift.