 The Week in Geek – Sept. 10, 2008
Startup Seeks to Link 3 Billion to Net

Google, HSBC holdings, Allen & Company, and cable magnate John Malone's Liberty Global are among the backers of 03b, a name referring to the world's 'other three billion' that lack net access. The startup hopes to launch at least 16 low earth orbit satellites that could provide service to Latin America, Africa, and the Middle East by the end of 2010. Rather than dealing directly with end-users, the $650 million + effort will sell connections to local Internet-service suppliers, who then distribute the service over their own networks.
Google: The World's Most Powerful 10 Year Old

On Sept. 7, 1998, the then 25 year old Sergey Brin & Larry Page started Google. Now they're worth $19 billion a piece, Google is the largest media company on the planet by market cap, it earns more money via advertising than any newspaper chain, TV, or radio station, and last quarter took in more profits ($1.25B) than either Time Warner ($782M), News Corp ($1.13B), or Viacom ($407M). Nearly 20,000 Googlers keep the giant humming for some 650 million users. The firm processes roughly 2/3rds of search requests and brings in about 3/4ths of search advertising dollars. The LA Times offers an interview with Google VP Marissa Mayer, who reflects on Google at 10 (and 20). It's been a busy few days for the search sovereign. Among the developments:
The firm introduced the Chrome browser via an online comic book. Chrome is open source, includes security features that keep malware in a 'sandbox' where it can't escape to infect the rest of the PC. Chrome also contains a re-write of JavaScript that executes twice as fast as the engine in IE. Andy Kessler speculates on Chrome's importance in competing against Microsoft.  David Pogue of the NY Times offers a first-look review.
Google has struck a partnership to sell television ads for NBC's cable channels. USA Today reports that "through that partnership, Google can measure down to the second what viewers are watching by monitoring data flowing through the Dish Network's set-top boxes".
And likely the main reason for the recenty stock price dip, the Justice Department has hired former Disney vice chair, and Carter Administration anti-trust chief, Sanford Litvack, for a possible antitrust challenge to Google Inc.'s ad dominance. Specifics of the investigation is unclear, but experts point to Google's June '08 deal with Yahoo as one possible angle. Google will be able to sell search and text ads on Yahoo sites. Revenue from the deal would be shared by the two firms that, together, account for roughly 80% of search ads (closing of the deal is put off 'til Oct. for the Justice Dept. to review specifics). The WSJ reports that The Association of National Advertisers, a trade organization that includes big advertisers such as P&G and GM, has also complained to Justice that the deal could lead to higher prices for web advertisers. Microsoft, which tried unsuccessfully to buy Yahoo earlier this year, and which itself has been the subject to US anti-trust investigation, also objected to the deal.
Gap Widens in Online Advertising
Despite the down economy, online advertising is growing at a 20% clip. Search ads should have a $10.4 billion year (42% of online ad spending), double the spending on display ads.
Apple Turns Spotlight Back on iPod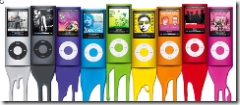 Our friends at Apple had a big day, announcing the new iPod Nano Chromatic – a longer screen nano with accelerometer that enables sideways wide screen view. Shake it and it shuffles. Also offered, a new, slimmer iPod Touch (in sizes 8GB to 32GB), and a higher capacity iPod classic (120GB). NBC shows are now back in the iTunes lineup. And iTunes 8 has a feature called Genius. Listen to a song and Genius will build a recommended playlist based on similar tunes in your library. And it can make recommendations of similar tunes from the iTunes music store, should you want to load up on more melodies from the #1 music retailer in the US.  A highlight of the keynote – Jobs stood before the quote "Reports of my death have been greatly exaggerated".  Jobs, a survivor of pancreatic cancer, has suffered media scrutiny of his weight, dress, and even a Bloomberg report last month that he died. Steve's clearly doing well.
Open Source Textbooks Challenge a Paradigm


Flat World Knowledge, the publisher of my forthcoming book "Information Systems: A Manager's Guide to Harnessing Technology" was recently profiled in Wired. The model of free online version, low cost print version, and regular and fast content updates really makes sense, and I'm excited to be working with them. The firm is run by veterans of the textbook publishing industry, has recruited a great lineup of authors, and has also gotten press in The NY Times, LA Times, Washington Post, Time Magazine, NPR, US News, and many other outlets. Several draft modules for the book have been posted to my site for prepublication review (in my format, not the very nice formatting FWK will eventually do) & I'd welcome any comments from our readers.
Web 2.0 Chapter
Looking for a managerial introduction to Social Media, Peer Production, and Web 2.0 technologies? Check out the draft chapter I've posted. Thanks much to my colleagues Rob Fichman and Jerry Kane for their input and feedback on the chapter. Business examples of crowdsourcing and predation markets are among the efforts profiled. If you check it out, please let me know what you think!
Lines and Bubbles and Bars, Oh My! New Ways to Sift Data


IBM's Cambridge, MA based Watson Research Center brings Web 2.0 to data visualization with Many-Eyes.com, a site to help people publish and discuss graphics in a group. Stanford Prof. Pat Hanrahan sums up the benefits of the site this way "When you have a group look at data, you protect against bias. You get more perspectives, and this can lead to more reliable decisions." The site offers 16 ways to visualize either numerical or textual data, including stack graphs, pie charts, bar charts, and relationship mapping diagrams.
Brave New World of Digital Intimacy
"I outsource my life. I can solve any problem on Twitter in six minutes." That's what Social Media consultant Laura Fitton recently told the NY Times Magazine. The value of the weak ties in a social network (loose acquaintances you may know, but not all that well) can explode as tools like Facebook, Twitter, and LinkedIn. Just drop a question into Twitter or Facebook for near immediate feedback (I used Facebook responses this summer to get student input on their Facebook use for a case I wrote on, you guessed it, Facebook). The Times also suggests that social networking tools, particularly those offering the frequent, short, and perhaps less carefully considered updates of Facebook and Twitter, are helping shape a new social dynamic among a generation of users. See someone at a party you haven't spoken with in a while and you immediately know what they're up to. Conversations can have more depth, connections may be easier to establish and maintain. Updates in this so-called 'ambient intimacy' may seem insignificant individually, but can paint a sophisticated portrait of a person if taken in aggregate (think the digital version of a pointillist painting. But Flickr co-founder Catarina Fake laments that it can also make you a lazy friend. Says Fake: "At one point I realized I had a friend whose child I had seen, via photos on Flickr, grow from birth to 1 year old. I thought, I really should go meet her in person. But it was weird; I also felt that Flickr had satisfied that getting-to-know you satisfaction, so I didn't feel the urgency. But then I was like, Oh, that's not sufficient! I should go in person!"
Understanding Network Effects Chapter
Network effects, Network Externalities, Metcalfe's Law – whatever you call it, the virtuous cycle is the strategic magic that made Gates the richest in America and propelled empires from Intel to Facebook to eBay. This chapter not only uncovers the magic of value created by more users, it outlines a series of specific steps that incumbents and new entrants can follow when competing where network effects rule. Feedback welcome!
What CIOs Do?
McKinsey offers up a special collection of articles featuring insight from the tech chiefs at P&G, NetApp, and Volkswagon, among others.
Has Dell's Comeback hit a Roadblock?


For over a decade, Dell's vertically integrated, direct-to-consumer model was the very best in the PC industry, delivering margins some 7 times greater than rivals. Now the magic is gone. Dell is about to sell off its factory assets, once a source of sustainable competitive advantage. How did this happen? Check out the Dell sidebar in the Strategy & Technology chapter for a quick overview.
Best Place to Launch a Career

Sure the economy looks gloomy right now (wouldn't want to have counted on that job on Wall Street), but BusinessWeek suggests anyone not a senior can take heart: by 2010 two employees will be leaving the workforce for every new hire entering. Advantage new college grads! So where should you start your career? BusinessWeek offers their annual list of best places to land that first post-sheepskin job (hint: nearly every firm mentioned is tech-heavy, from the accounting & finance firms to Google & Accenture to media firms like Disney). Oh yeah, and don't forget the internship: BW reports that many firms 50% of entry-level hires were former interns. And BC students not in the Carroll School shouldn't panic: almost half of entry-level hires at Lehman Brothers and JPMorgan and a third of those at Goldman Sachs were liberal arts grads. Of course, recruiters know that thanks to the Jesuits, at BC every business major is also a liberal arts grad. Also see the article 'extras', including Top Ways to Sink a Job Hunt, and New on the Job: Rookie Flubs