Frequently Asked Questions
Answers to questions frequently posed by students and visitors to my website
What courses are you teaching this year?
Spring 2018:
ISYS216001 – Intro to Programming with Swift for iOS Development
Mondays, 4:30-6:50pm in Fulton 415
Fall 2018
ISYS:CSCI 1021 Digital Technologies: Strategy & Use – two sections
Two sections: TBD
ISYS216001 – Intro to Programming with Swift for iOS Development
Section 1 – Tues 4:30-6:50pm
What is your Swift/iOS programming class like? Do I need to be a programmer to take this?
This is a flipped class, no programming experience required, very fast paced with in-depth out-of-class video-driven learning & in-class exercises. Curious? First three video-heavy chapters of https://gallaugher.com/swift are online.
How can I reach you / what are your office hours / what's your contact information?
See the Contact Info page.
How can I get the best possible grade in class?
Attend all classes, come to class prepared, complete all of the assignments & assigned reading, take thorough notes, study in groups, ask lots of questions, and drop by to see me if you have any questions.
Is there any way I can do an extra-credit project to increase my grade?
Sorry, but there is no way to alter the grading criteria.  The grade criteria are defined at the start of the semester & all students have an equal opportunity to earn grades within the pre-stated parameters.  I want everyone to learn the material and do well.  If you struggle with any concepts, please come and see me.
What is the Week in Geek? Do I need to read it?
The Week in Geek™ (WiG) is my blog/news diageste and has been published since 1997 (since before the word 'blog' was coined).  I use the WiG to share interesting articles that I run across (the good stuff that gives you goosebumps).  I also use the WiG to celebrate former students, things happening at our university, and to provide additional content to faculty and students using my textbook.  It's a great way for me to stay in touch, and to encourage and support lifelong learning beyond my class.    Please sign up at the top of https://gallaugher.com.
The industry is changing so fast.  How can I keep up with the latest happenings in high-tech?
There are a number of things you can do.
The short-cut is to subscribe to the Week in Geek at the top of my home page – I regularly draw articles from the resources below when creating the WiG.
Follow industry publications, journalists, VCs, and other digirati on Twitter.  Install Twitter on your smart phone, or use TweetDeck, and refer to this regularly to get the gist of what's hot online.
MBAs should join the Graduate TechClub. Undergrads should join the Information Systems Academy and ACM. And also consider joining the Boston College Venture Competition (which has launched multiple businesses that have collectively raised millions in venture capital).  The IS Department Admin (in Fulton 460) can help you find the way to connect with each of these groups  The Clubs host speakers, local site visits, and the graduate club is involved in planning the Cyberposium with Harvard & other leading business schools.  Cyberposium is the premiere tech conference in the East & a must-attend for anyone serious about leveraging technology.  Past events have attracted founders & senior executives from leading e-commerce firms worldwide.
Apply to TechTrek.  These programs (January for graduate students, spring break for undergrads) bring students to visit with executives & managers at firms in the tech industry as well as those leveraging or investing in tech.  Talk to someone who has been on a prior TechTrek. Students rave about the experience.
Alumni should join the Boston College Technology Council.  With active chapters on both coasts and leadership featuring senior executives in the tech & venture capital community, the Boston College Technology Council is critical resource for all alumni.  Regular dinners and breakfast series attract a who's who of tech and finance. Visit the BCTC web page for more details.
Links to all of these resources and much nmore are available on the Resources page.
I've heard you podcast your courses.  Where can I find them?
If you're a member of the BC Community, my classes are on Boston College's iTunes University site.  If you're registered for my class, just log into http://agora.bc.edu, then click the 'podcast' link.  Faculty & students from outside the university can access podcasts at Podcasts from a link on main web page as they become available.  Slides, assignments, our textbook, and other material from https://gallaugher.com/chapters/. Feel free to share these resources with others & let me know if you find them useful!
I have other question about Computing at Boston College.  Where can I get help?
552-HELP (4357) is the help desk, however the desk is frequently unavailable or busy.  The BC Campus Technology Resource Center also contains extremely helpful information.  I cannot troubleshoot software problems that occur on student PCs.
You mentioned everyone should have virus protection software.  Which should I buy?
BC offers Virus protection software for free to students, staff, and faculty.  Please see the BC  Safe computing and Anti-Virus page for details.  Set virus protection software for automatic update and NEVER open an enclosure that isn't fully explained and that isn't convincingly sent from someone you know.  When in doubt, e-mail the sender back for confirmation.
I'm an alumnus working in Tech.  Does BC have a tech-focused alumni organization?
Absolutely.  The Boston College Technology Council has offices in Boston and Silicon Valley.  The BCTC regularly runs dinner and breakfast series featuring talks from tech's top-leadership.  Past speakers have included Apple's Phil Schiller, Google Chief Business Officer Nikesh Arora, the CEOs of Motorola, Xerox, NetApp, Akamai, leading venture capital partners, entrepreneurs, and many others.  Alums and graduating seniors should get on the TechCouncil mailing list by sending an e-mail message [email protected].  Alums in Tech interested in speaking on campus, assisting in recruiting, or hosting a student TechTrek visit at their firm should also contact me at [email protected].
I see you've got a gumball machine in your office.  Can I have some of what's inside of it?
Sure – that's why it's there.  There is a penny bowl next to it, so you don't have to pay 🙂  But there's no gum, it's usually just Skittles.
There's a rumor you're blind/legally blind/going blind. Is that true? Why don't you wear glasses? Come clean with us.
I'm definitely not blind, but my vision is not especially good. I'm very near sighted (-23, -17), have a focusing delay, and have had cataract surgery (where I had high-power contacts implanted – that's why you don't see me regularly wearing glasses).  When you're this nearsighted you're also at risk for Macular Degeneration and that has now progressed to both eyes, leaving scarring in my central vision area. Because of this you might see me winking to favor one eye while reading. I promise I'm not creeping on you.  Also- I may walk past you without recognizing you or might at first think you are someone else.  That said, it really not a big deal and doesn't impact much in my life besides driving. I'm still active, travel, etc.  You can help me out – PLEASE don't sit in the back row in class, and be sure to write your name on your name card REALLY BIG so I can see it.  Thanks!
You totally didn't recognize me – is that because you're blind?
I'm not blind (see above), but I also have a terrible memory for names & faces (a bad combo, especially when teaching ~200 students a semester).  I'm good with details though, so put an obscure fact on your wiki page – I'll likely remember that.  Please refresh my memory when we meet again!  And remember, there is a gumball machine in the office, so there's an incentive for you to drop by for a re-introduction!
Who's is that autographed poster of a mountain climber on your wall?
A blind guy – doh!  But not because I have poor vision – simply because Erik Weihenmayer is hugely inspiring. Erik and I overlapped during our student time at BC, but we didn't know each other well.  After leaving BC, Erik summited the highest peaks on each continent and was the first blind climber to scale Mt. Everest.  Among many media appearances and speaking engagements, he has appeared on the cover of Time Magazine, has written a riveting memoir, and has appeared in a documentary.  He also delivered the Boston College commencement address in 2003.  Erik kindly sent an autographed poster so I can share his story.  Whenever I grumbling that things seem difficult I look up at the image of him scaling Everest and realize that whatever I'm grumping about isn't all that much.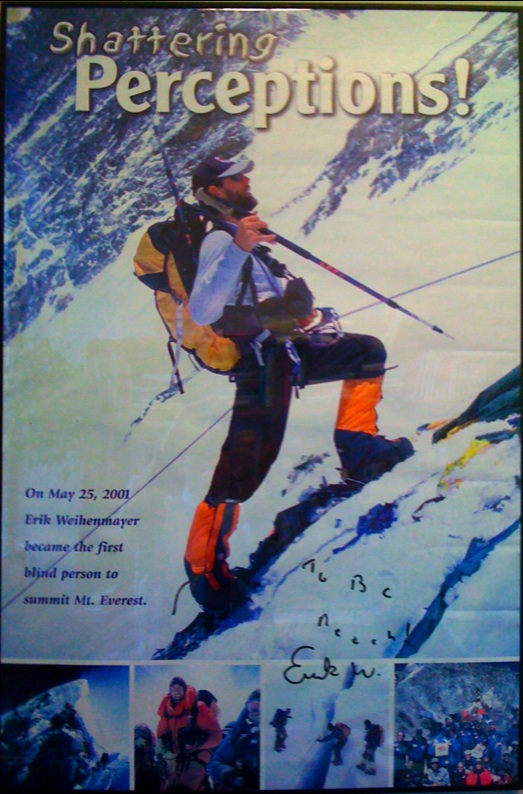 I see that you own 'gallaugher.com' and 'WeekInGeek.com'. I want to buy my own domain name.  How do I do this?
You'll need to pay to register the domain name (if it is even available), and you'll likely want a company to host your pages at that domain.  The firm that I use is godaddy.com, but there are many choices.  C|Net and similar resources can provide ISP reviews and additional advice.
Why do you have a picture of Groucho Marx and John Lennon on your wall?
It's not a picture, it's a stamp issued by a break-away region of Abkhazia in what was once Soviet Georgia.  After years of issuing stamps of Marx and Lenin (Karl & Vladimir), the new government figured they'd issue stamps of a kinder, gentler Marx and "Lennon". I used to work in the Soviet Union, so I enjoyed this not-so-subtle jab at communism.
Can I borrow your slides, use your material, or cite your research?
Sure. All material online is copyrighted by me unless otherwise noted, but it's available free to students and faculty (even those at other universities) for use in their courses. Check out the rightmost column at https://gallaugher.com for the free online textbook, slides, podcasts, course exercises, a publicly-readable version of my course wiki, and other material.  I welcome an opportunity to share my materials with others – all I ask that you cite me if you're using any of the materials and you let me know what you're using and what you find interesting.  I very much enjoy hearing from faculty, researchers, practitioners, press, and other curious visitors to my site and I'd look forward to an opportunity to collaborate on future projects.   No advanced permission is required to cite my research or link to my pages, but do write to let me know if you find the material useful!
I'm not currently a BC student, but I'm considering BC.  What should I expect?
BC is a great place – I love it here and if you join us, I'm sure you'll have a great experience. There's never been a better time to be associated with this University.  Boston College has been ranked by US News as a University, Undergrad Management Program, and Full-Time MBA program. BusinessWeek ranks the Carroll School's Undergrad Program #4 in the nation.  Our IS department is regularly ranked in the top 10 and BC's IS faculty rank among the best IS faculty in the country in terms of quality research productivity.  Both undergrad and graduate programs run for-credit TechTrek field study courses where students meet with leading tech-industry executives.  Grad programs run highly successful for-credit study trips to Asia, Europe, and a consulting course with results delivered in Beijing. Many of these field study experiences include student-alumni mixers and meetings with senior executives affiliated with BC.  Over the last few years we've placed BC students at leading tech firms (Amazon, Apple, Cisco, EMC, Google, IBM, Intel, Intuit, Nintendo, Zynga), IT research firms (Gartner, IDC, Forrester), and consulting firms (Accenture, CapGemini, Deloitte, E&Y, IBM, McKinsey, and the boutiques).  My colleagues on the faculty have world-class research reputations and are deeply committed to quality teaching.  Many of us keep close ties to industry through consulting, speaking, and advising roles.  We also leverage in-residence faculty associated with leading area firms.