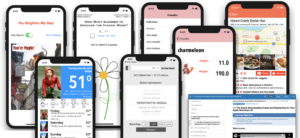 Thrilled to announce the official release of "Learn to Program using Swift for iOS Development". The first three chapters are available free online. The product is at:
https://catalog.flatworldknowledge.com/catalog/editions/learn-to-program-swift-for-ios-3
And for more info see: https://gallaugher.com/swift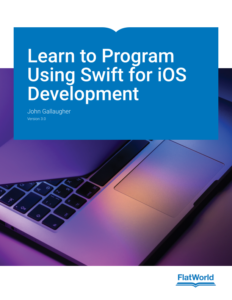 "Learn to Program Using Swift for iOS Development" is a groundbreaking learning product ideal for motivated students new to coding, or anyone looking to learn iOS app building.  100+ videos take students through the basics of programming as they build iOS apps in Apple's free Xcode environment. Version 3.0 includes Swift 4.2 and Xcode 10 updates! Students go from no assumed prior programing experience through a series of apps, culminating in a "Yelp-like" social app using Google's Firestore cloud database, photo sharing, social login, API access, JSON parsing, maps, and more. Apps run in the Xcode simulator, so all students need is access to a Mac. Online quizzes and additional exercises reinforce learning. Normally teaching an apps course is tough work, but instructors looking for a light-lifting, high-impact course will find teaching an apps course as a "flipped class" a breeze. Students take "lectures" via out-of-class videos, then return to class to work together on exercises. All the work is already prepared for faculty, along with answers, support slides, and more (the course also works well for online courses, summer bootcamps, and individual independent learners). Empower your collegiate entrepreneurs with the skills to build their vision. Help your students succeed in rankings-impacting high-demand careers. Teach a class where students show off their homework to friends and family. Make your coding courses mobile-first, for the win!
New editions of this product will be offered each year, allowing faculty to stay current with the latest products and techniques. Find out more at FlatWorld. And for those interested an an award-winning managerial text introducing business and tech concepts side-by-side while studying firms from Amazon to Zara, see "A Manager's Guide to Harnessing Technology.'
A video look at what students will learn in a semester-long course. Boston College – Fall 2017