 Target Hack Autopsy, Oculus FB, Airbnbillionaires, TechProfits, Hastings on NetNeutrality, HubTech & #BCventures: The Week in Geek™ – March 31, 2014
How Target Blew It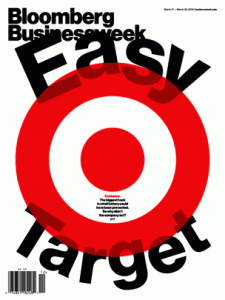 The Target breach occurring in late 2013 was one of the largest in US history (Five of the top 10 data breaches in terms of records stolen occurred in 2013). Reports suggest 40 million cards used at Target were stolen and additional personal information on 70 million customers was exposed.  According to one study, only 5% of retailers discover breaches through their own monitoring.  But, as BusinessWeek's cover story points out Target deployed systems that not once, but twice, notified the firm that something suspicious was happening. Yet Target ignored the warnings.
The video accompanying the BW cover story provides a quick and damning rundown of the event timeline. In the days prior to Thanksgiving 2013, hackers managed to install malware in Target's security and payments system.  This code was designed to steal every credit card used at the company's 1,797 U.S. stores.  The bad guys' data snarfing malware went operational on Nov. 27.  Target had previously paid some $1.6 million for software from the security firm FireEye to detect breaches in real-time, and a FireEye breach alarm went off three days after data theft began, but Target ignored the warning.  Another alert went up within the week and that was ignored as well. At this point the malware hadn't begun transmitting the captured data out of Target's network.  Had Target heeded the warnings they could have prevented the breach, but instead for more than two weeks, hackers operating out of Odessa and Moscow vacuumed up data on roughly one third of US consumers. Even worse, the security software has an option to automatically delete malware as it's detected. But Target's security team had turned that function off. Target's investigation didn't start until federal law enforcement contacted the firm in mid-December to report suspicious activities on cards used in its stores.
The malware used to breach target was described by one security expert as "absolutely unsophisticated and uninteresting."  The code was likely snuck into Target's system using the security credentials of one of the firm's partners, a heating and ventilation firm.  While the area where cards are kept is supposed to be walled off from other areas of the Target network (e.g. the air conditioner guys should never be able to touch systems that read credit cards) hackers found holes and eventually nestled their code in a sweet spot, disguising it with the name "BladeLogic" the name of a legitimate data center management product.
The damage Target suffers should lead to sleepless nights throughout retail. Analysts estimate the cost of the breach will run into the billions, and 90 lawsuits have already been filed against the firm.  Target's holiday quarter profits also fell 46% from the prior year, and the retailer reported its biggest ever decline in transactions.
Facebook Enters the Matrix and Buys Oculus VR for $2 Billion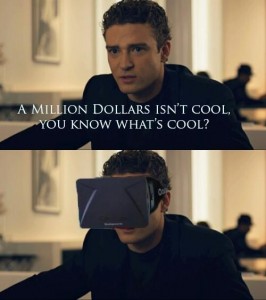 Two years ago a 19 year old named Palmer Luckey was tinkering with a prototype for virtual reality goggles and founded a company called "Oculus VR". Funding began with a Kickstarter campaign and a developer kit for the "Rift" head-mounted display attracted glowing press, especially among those salivating for new, immersive game environments. Top tier VCs (including Boston-based Spark Capital) kicked in $91 million in funding.  Irvine-based Oculus also attracted one of the most famous game developers in the world as its chief technology officer, John Carmack, father of the genre-defining first-person-shooters Doom and Quake. In March, another admirer, Mark Zuckerberg, dropped $2 billion of Facebook's cash to acquire the firm.
What does Facebook see (no pun intended) in the VR headset maker? According to Zuckerberg, "There are not that many companies building technologies that can be the next major computer platform… We are making a long-term bet that immersive virtual reality will be a part of people's lives… After games, we're going to make Oculus a platform for many other experiences.  Imagine enjoying a courtside seat at a game, studying in a classroom of students and teachers all over the world or consulting with a doctor face-to-face, just by putting on goggles in your home."  Zuckerberg has also said that "Oculus has the potential to be the most social platform ever."  A vocal subset of the gaming community, including several who backed Oculus on Kickstarter, have been griping online about the firm selling out to Facebook, but most see Facebook as bringing resources and heft to turn accessible VR into big business. Competition is looming. Sony recently released a developer kit for its own "Project Morpheus," a VR system in the works for the PlayStation 4.  Facebook's billions in dollars and billion-plus users provide a startup just two-years out of crowd-funding with a credible shot at being the industry's leading player.
Airbnb Cofounders: Sharing Economy's First Billionaires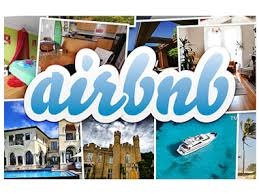 Paper wealth in a privately held firm isn't the same as shares of a publicly traded company, but Y-Combinator alum Airbnb's rumored latest fundraising round values the firm at $10 billion, and would give the firm's three-founders each a networth north of $1 billion.  Airbnb is seen as one of the leaders in the so-called "sharing economy," allowing users to rent out their home, apartment, spare rooms, or even tree-houses, for cash.  Despite the goofy name and mental leap of doing homestay business with strangers, Airbnb is massive. The firm's 600,000 listings span 160 countries, and some 11 million bookings have been made over the past five years.  A guest checks in somewhere in the world every two seconds, and a record quarter of a million guests were staying in Airbnb-arranged accommodations last New Year's Eve. For more on the sharing economy, see this great piece in BusinessInsider by BC alum & thredUP CEO James Reinhart (Also give thredUP a try.  They're the leader in online consignment with thousands of curated, hand-selected and inspected, high-end women & children's clothes online).
Netflix Blasts ISPs, Explains Why It Pays Comcast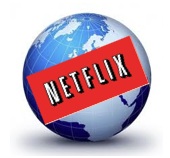 Reed Hastings is an adamant supporter of strong net neutrality and recently wrote on a Netflix blog that the firm does not "pay for priority access against competitors, just for interconnection." Hastings position continues "Some ISPs say that Netflix is unilaterally "dumping as much volume" (Verizon CFO) as it wants onto their networks. Netflix isn't "dumping" data; it's satisfying requests made by ISP customers who pay a lot of money for high speed Internet. Netflix doesn't send data unless members request a movie or TV show." From Netflix perspective, it sees customers who pay for Internet access as paying to access the whole Internet, not just a subset. For faculty, this is more info (combined with coverage in the last issue of the WiG) for class discussions and debate related to Netflix, Net Neutrality, and Telecom.
Turning a Profit: See How Quickly Tech Firms Build Wealth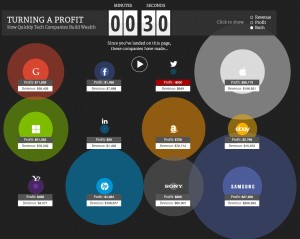 This fun, on-demand graphic by the folks at WorldPayZing shows revenue and profit growth in real-time among some of the tech industry's best-known firms.  A thought-provoking tool for faculty discussion, and a short, neat site visit for just about anyone interested in the business of technology.
Boston Tech Strong: An Interactive Map of City Startups & Their Impact


The volunteers behind TechScene Boston have created an interactive map of the city's startups, showing the Hub's tech ecosystem's contribution to the economy in terms of jobs created, revenue generated and capital raised. At the time of the screenshot above, the 762 area startups in the system had created 18,034 jobs and raised $5.96 billion in funding. Check it out!
 ❖ ❖ ❖ ❖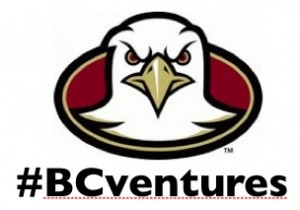 And as has been the case for the past several Week in Geek posts, there's lots to celebrate in the Boston College tech/entrepreneurship ecosystem.