New Textbook Version, Meeker Trends, Netflix TV, Google Fights Fraud, Silicon Valley Elite + Lots of #BCventures News: The Week in Geek™ – August 19, 2015
Apology: A copy of the Table of Contents for V. 4.0 of my textbook was inadvertently sent out yesterday. I meant to post this as a new web page and instead posted it as a new blog post, which went out via Feedburner. Sorry if this was spammy. Upside: lots of faculty on the list emailed that they were excited to adopt. Big thanks! (see below).
New Version 4.0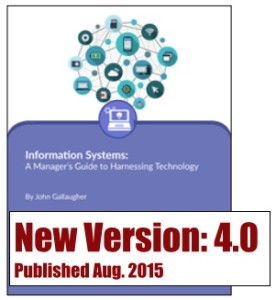 Version 4.0 of my textbook has just been published and is ready for Fall classes! Faculty can request a copy here. This latest version of the text includes a new chapter on Rent the Runway, and how the firm's young women entrepreneurs built a "fashion company with a tech soul" that has attracted over 5 million customers. Concepts from the sharing economy, two-sided markets, social, mobile, multi-channel, big data leverage, and tech-fueled operations are all covered. Disruptive Innovation now gets its own chapter. New coverage includes minicases on "Mickey's Wearable" (Disney's billion dollar MagicBand and MyMagic+), Big Data at L.L. Bean, Spotify's DJ in the cloud, Watson in your child's toy, Amazon's new robotic distribution centers, and much more. From Alphabet at Google to Zara's new firm-wide RFID program, you'll find lots of content to engage your students (and some new embedded video, too). Here is text taken from my publisher's announcement, a link of Topics taken from the Table of Contents, and an update list on chapter-by-chapter changes for those faculty moving from v. 3.0 to v. 4.0. At less than $25 for the web edition, the text continues to be offered at a price point of roughly 1/10th the cost of leading management textbooks, and is still cheaper than the coursepacks and Chegg offerings that many profs use. With over 1,300 adoptions, it's been great to see the far-reaching impact of the project. I remain so grateful to all who have adopted the text and helped spread the word. My tremendous thanks to you! More info at https://gallaugher.com/book.
Mary Meeker Internet Trends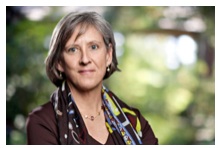 Tops on my 'must read' recommendation short-list is the annual Mary Meeker Internet Trends slide deck. Also catch the video of the KPCB partner blasting through her massive (196 slides) and deeply insightful deck at the Re/code Code Conference last May.
Netflix Secret TV Lab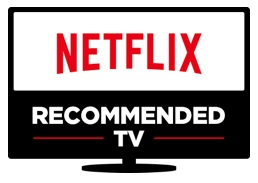 The Netflix global subscriber base is over 62 million and growing. That gives the firm a lot of clout, and it's using these numbers to push TV makers to optimize the Netflix experience. The "Netflix Recommended TV" label awards the distinction to firms based on several criteria such as speed, easy access, fast startup/instant on, quick resume, and sets offering remotes with a Netflix button. The firm found many top-selling TVs, even high-end ones, didn't make the cut. A team of secret shoppers buys TVs direct from retailers to avoid getting 'ringer' TVs that perform better than off-the-shelf panels. They're tested in a shielded 'Faraday Cage' and go through several simulations, including spotty WiFi reflective of many homes and cable subscribers. Scenarios (shutting things off for a phone call or to check a score, then resuming) are tested for best-experience results.
More evidence of Netflix growing influence: the firm represents close to 6% of TV viewing in the US, and accounted for 43% of the network TV ratings decline during a recent quarter. Recode quips on the frenemies-style hand-wringing the firm is generating in the industry, writing "Netflix uses TV's old shows to build its own business, which eats into TV's business. Then Netflix uses the money it makes from TV's old shows to make new shows of its own — so it can eat into the TV business some more."
Inside Google's Secret War on Ad Fraud


A team of over 100 at Google are actively fighting the mob's attempts to highjack your computer and siphon billions from the online ad industry. AdAge offers a fascinating look at the secretive Google team and the badguys, the deeply skilled global mafias, that they're battling. As our students learn in class, much ad fraud happens via botnets where organized crime takes over personal machines to secretly click ads owned by the crime syndicate. By infecting computers like yours and issuing unseen commands (you may not even know your machine is 'surfing' in the background), criminals avoid detection by diversifying IP addresses, geographies, and building scale that looks like patterns visiting a popular site. Some sell botnet access in sophisticated online black markets where sellers are rated with Netflix-like star ratings and funds are held in escrow to insure a deal's integrity. But Google's scale gives it the big data size to identify truly random patterns from those created by criminals (see image above where uniformity on left and middle suggest a computer's and not a human's clicks). With this kind of scale, Google knows what regular traffic patterns are – date, time geography, reasonably average click-through rates, how they vary in the face of current events, and much more. Faculty wanting to teach students more about ad fraud (and how it's fought) can see Chapter 18 in our textbook.
Silicon Valley's Top Firms, 2015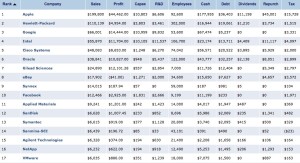 This searchable database from the San Jose Mercury News can provide some fascinating insights. Click columns to get a sense of who's tops in revenues, profits, CapEx, headcount, and more. Faculty: this is a fun thing to share with new business students who are just getting a sense of differences in various industries and markets. Too bad the Fortune 500 stopped doing this, but kudos to the Merc for stepping up, even if it is just focused on the Valley's biggies.
❖ ❖ ❖ ❖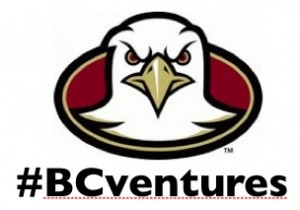 It's been a while since the last blog post. More great #BCventures news from our students, alumni, and faculty! For startups, do consider following them on AngelList for updates, investment info, and job openings.
The only way we're going to get more women interested in tech and entrepreneurship is to step up and provide mentoring and resources. Hugely proud of the new BC Women Innovator's Group @BCwinnovators. Boston Magazine profiled the group's founding. Interested in getting involved? See: IS Academy Pres ‪@ayako_mikami and BC's Google rep ‪@techarev. BC Prof. Bridget Akinc is their advisor.
Congrats to WePay! CEO Bill Clerico (co-founder of BCVC and a vet of our first TechTrek) and his Eagle co-founder Rich Aberman, have raised $40 million more for their payments juggernaut. New investor FTV Capital led the round, with Japanese e-commerce giant Rakuten and existing investors Highland Capital Partners, August Capital, Continental Investors and Ignition Partners also in.
WePay's Clerico leads the Inc. Magazine piece on "Why Fintech Is One of the Most Promising Industries of 2015" while BC alum and Sequoia Capital partner Pat Grady is also quoted.
Alcohol delivery service Drizly, founded on campus by BC alum Nick Rellas when he was an undergrad, raised an additional $13 million to expand their national reach (already at 15 markets coast to coast). Backers include the hugely influential Wine and Spirit Wholesalers of America (looking to Drizly to beat back Amazon), and Polaris Ventures. Nick has been a host to our students as well as a mentor and on-campus speaker. Keep inspiring the next gen, Nick! The Drizly and WePay funding came within days of each other. $53 million for #BCventures in one week – not bad!
Wired turns to Jim Lucchese, BC alum and CEO of Spotify-owned The Echo Nest in the piece "Inside Spotify's Hunt for the Perfect Playlist". By analyzing the listening habits of millions and deciphering what tastemakers and others are saying in blogs and online posts, no one knows more about what's hot than The Echo Nest. Now that personal DJ in the cloud is bringing its Big Data brain to help you discover tunes you'll love. Jim has hosted our students for #BCTechTrek Boston and arranged for a face-melting demo, and we look forward to having him speak on campus in Fall. Stay tuned!
BC Magazine profiles the alum-founded, crowdsourcing creatives at Santa Monica-based Tongal. Revenues top $25 million and clients include Lego, MasterCard, Tide, and McDonald's. Follow alumni @dejules @robsalvi & @markfburrell for more insights.
Wymsee is hiring! The alum-founded TechStars Boston vets have industry-standard software that's powering hit shows from Modern Family to Game of Thrones. Apply through AngelList! https://angel.co/l/xsk52
The second class of the BC alumni-powered Soaring Startup Circle looked dynamite at the BC Startup Celebration hosted by WeWork South Station where BC alum Dave McLaughlin runs the show.  All teams pitched (get their info here), and BC's new Exec Director of the Entrepreneurship Initiative, Jere Doyle, spoke. See photos here. Not plugged in? Be sure to join BC's Technology Council by emailing bctc@bc.edu.
PLEASE visit the Soaring Startup Circle page, try firm MVPs, download their apps, and offer them your constructive feedback. Thanks to Tom Coburn of Jebbit and the other core members of the team.  Want to get involved? Reach out to them, directly.
BC student & alum entrepreneurs take note! Thanks to alum Dave McLaughlin, WeWork Boston will extend a $1,000 credit toward a desk or office for any member of the BC community who tours WeWork before October. Just register for a tour on their site and let them know you are an eagle!
Congrats to current BC student ‪@GotcherGray and the TightSpot team on making the elite 2015 Summer@Highland class. Once again a BC team is working side-by-side with some of the best collegiate entrepreneurs in the country, gaining world-class mentoring and rocket fuel for future success.
After co-founding LocalOn BCVC winner David Tolioupov is back at it, with GoSkip, a mobile checkout solution that allows you to walk right out of the market, with your phone taking care of payment.  Read his comments in "Startups Bringing Sales, Marketing, Customer Experience Into Closer Alignment"
#BCventures show up everywhere. This piece in the Boston Globe points out that celebrity chef Mario Batali's partner Joe Bastianich is a BC alum! New eats coming to Boston, soon!
The powerful and inspiring work of BC Egan Professor Jim Gips is profiled by the Better World Project "Labor of Love Helps Severely Disabled Communicate".
BC Information Systems Prof. Jerry Kane has co-authored MIT Sloan Management Review's report on how "Strategy, Not Technology, Drives Digital Transformation" in the 2015 Digital Business Global Executive Study & Research Project. Also hear his comments via podcast, too.
Want Big Data insights? Catch BC Information Systems Prof. Sam Ransbotham interviewing the CEO of data giant Epsilon in "Marketing in Five Dimensions"
Former student Jackie Ouellette gets a mention in Scott Kirsner's insightful Boston Globe piece on the issues facing sharing economy firms as they grapple with concerns over contract workers.
Personal note: I was so honored to have received the Rev. Trzaska Faculty Leadership Award from the VP of Student Affairs office, but was really blown away when they showed me the long list of students, alumni, faculty and administrators who nominated me. Do know how touched I am that you took time from your busy schedule to share a nomination. This was entirely unexpected, but I am truly grateful. All of our programs are a team effort, and we are fortunate to have so many committed to creating great experiences for our students and University. Thanks to all who help us! Here's the video the kind folks in student affairs created for awards night (you might be in it), but also be sure to see the more worthy students who won leadership awards this year.